Products, services friendlyenvironment
In many localities in the province, green tourism has initially been developed through the creation of tourism products with environmentally friendly natural materials such as rattan, bamboo, leaves; Do not use plastic bags and plastic items. Especially in the highland districts, eco-friendly utensils to serve the needs of tourists are more and more popularly used at homestays.
Comrade Cao Van Minh, Head of the Culture and Information Office of Lam Binh district, said that in recent years, in order to serve the development of green tourism, the district has strengthened advocacy, guidance and organization for households to do translation work. homestay service to visit to learn experience to do green tourism. Currently, at homestays in the district, they use household utensils and tourism services with wickerwork from rattan, bamboo, and leaves, contributing to reducing plastic waste and creating create an environmentally friendly space for visitors.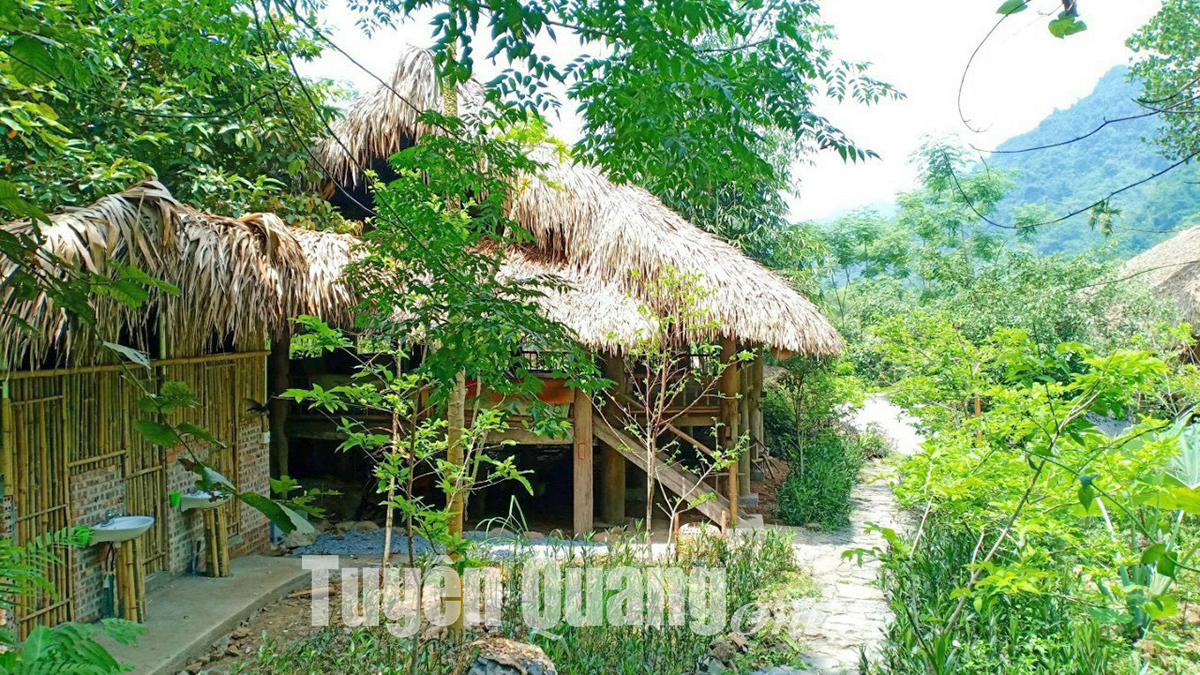 The homestays in the highlands of Lam Binh blend in with the trees.
Coming to Hoang Cat homestay, Na Dong village, Thuong Lam commune (Lam Binh), we were like filled with the space of nature and flowers. From the smallest items such as garbage baskets, drinking cups, rice trays, bowls, chopsticks, chairs, drinking tables, flower vases, picture frames or points for visitors to check-in are made from materials. such as rattan, bamboo, bamboo, bamboo.
Ms. Quan Thi Cat, owner of Hoang Cat homestay, said that developing green tourism and homestay has focused on architectural investment from housing, campus, ancillary works, check-in points are all with materials of the company. nature for visitors to experience and feel fully and fully about nature and the environment.
Not only developing green tourism through the creation of environmentally friendly tourism materials and products, the districts also develop shuttle services by electric vehicles, bicycle rental services and horses, visit primeval forests, vegetation, gardens. Since 2 years now, the family of Ms. Chuu Thi Hanh, the residential group of Nam Dip street, Lang Can town (Lam Binh) has developed a service for visitors to experience the orchard. Visitors when experiencing here can also pick grapefruit, oranges, apples to enjoy and check-in right at the garden. Thanks to the development of this service, her family has invested in taking care of the orchard to produce fruit in the right season, serving visitors.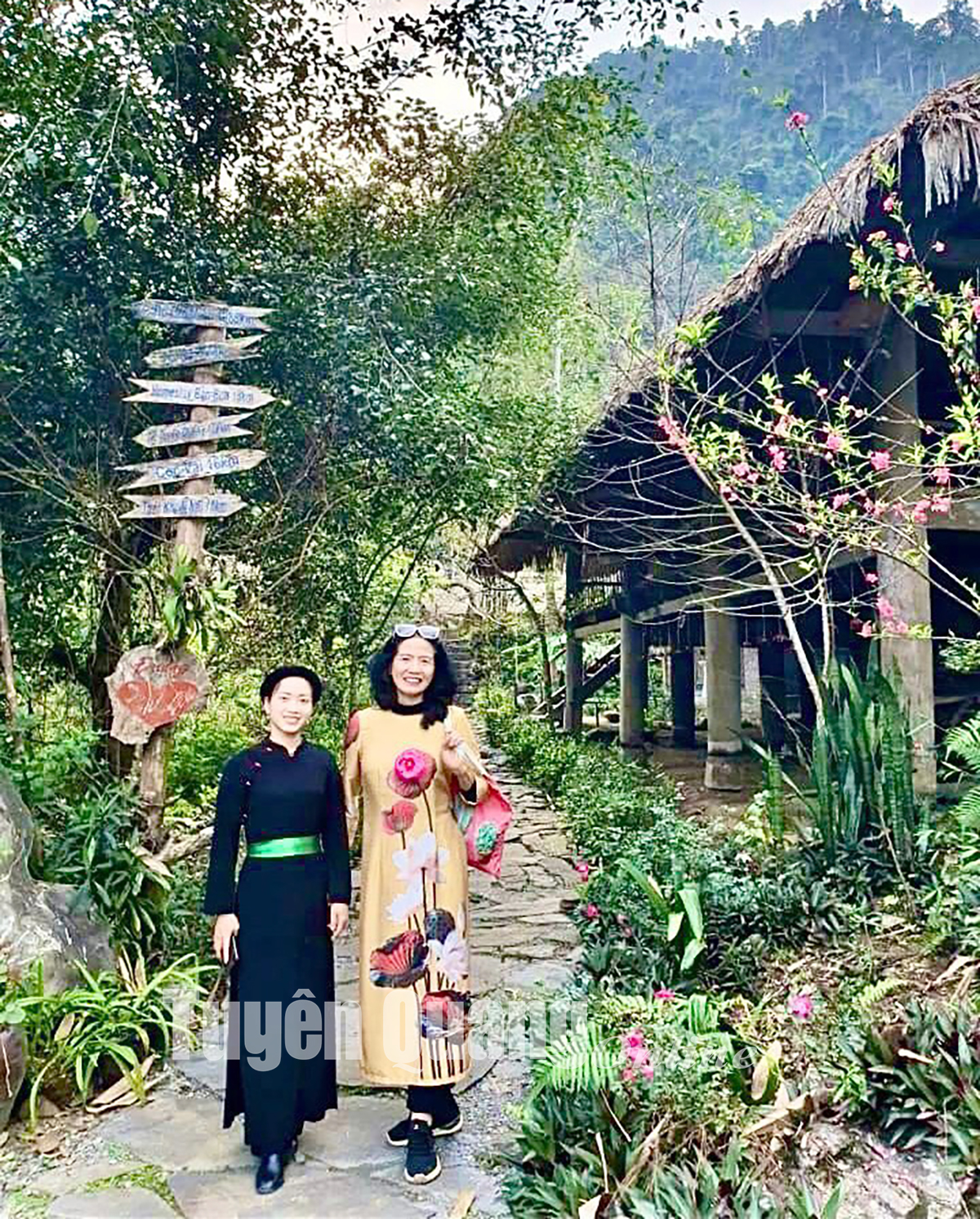 Visitors feel like being immersed in nature in Ban Bon village, Phuc Yen commune (Lam Binh).
Not only in Na Hang, Lam Binh, in districts such as Yen Son and Ham Yen also initially developed tourist services to visit, experience fruit orchards, create friendly check-in points, close to tourists. nature such as planting routes of peach blossom, ancient plum blossom, red rose flower, Hoang Yen's flower ... This is considered the right direction, while taking advantage of the strengths of the tourist subject, the strength of the tourism industry. as well as contribute to the protection of the landscape and environment, promoting the friendly image of the land and the people of Tuyen.
"Green" from consciousness
Although there is great potential and outstanding naturalness to develop green tourism product lines, the development of green tourism in some places has not really been aroused and paid attention to. In Tan Trao commune, in the past, many Tay households knew how to knit to create a number of tourist products and household utensils from rattan, bamboo, and bamboo, but it is no longer maintained. These products are only very few left in homestays. In Tan Trao commune, only a few check-in points have been established to serve visitors such as bamboo bridges, some flower routes at Tan Lap Cultural Village, and at the same time, a rafting service to visit. Na Na lake.
Mr. Luong Duy Doanh, Director of Five Star Travel Company, owner of Homestay Nam Dip and Ban Bon (Lam Binh), said that some tourist service places have not yet focused on putting up signs and messages to protect them. environment for tourists, or if any, very little, not in focus. Therefore, in order to arouse the potential of green tourism development, it is necessary to pay attention to the propaganda so that tourists as well as tourists when coming to Tuyen Quang must be "green" in their consciousness, that is, conscious. environmental protection from idea to action in a unified way.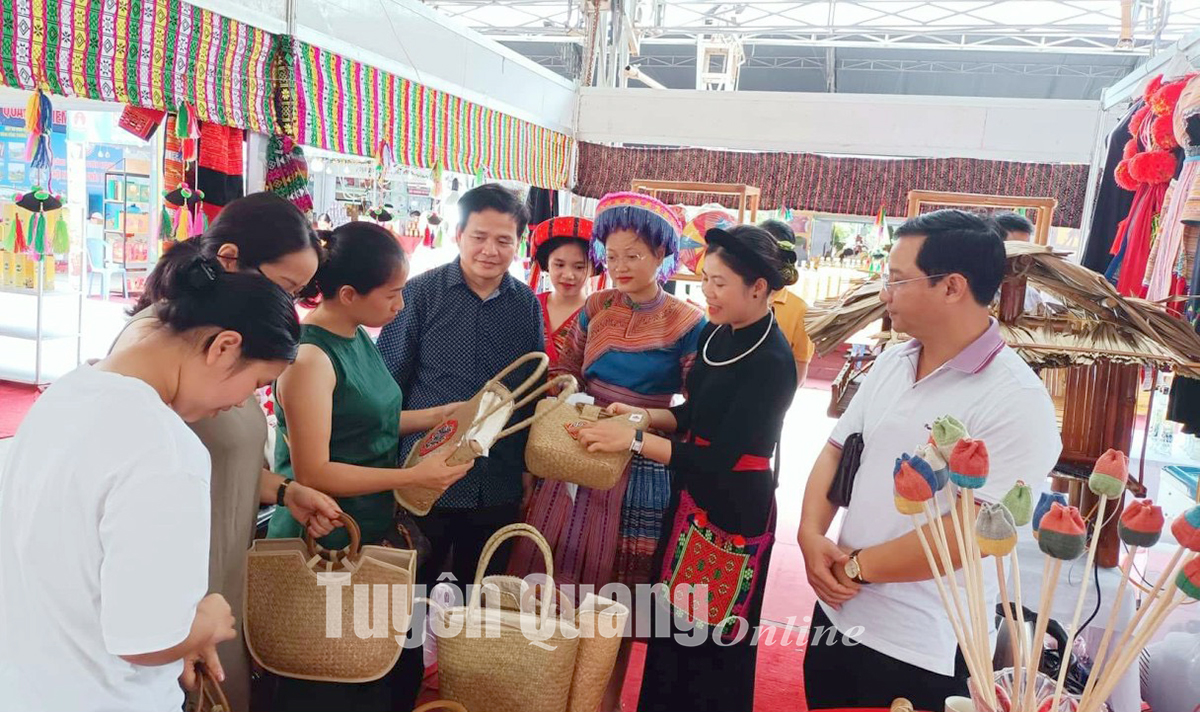 Visitors experience eco-friendly products from rattan and bamboo in Lam Binh district.
Not only homestay owners, but also restaurants, hotels, eateries, and tourism service workers must raise their awareness if they want to do green tourism. For visitors, it must also be propagated so that visitors are aware that, when coming to a destination, they not only leave footprints but also contribute to making the environment and landscape in that place clean - green and beautiful. than.
According to Ms. Pham Thi Huong, an international guide, an expert at the Provincial Investment Promotion Center, if you want to develop green tourism, it is necessary to have the role of guidance and orientation of the Party Committee and authorities, in which it is necessary to identify where green tourism can be developed in order to pay attention to the orientation of tourism service workers. In particular, tourism service providers should focus on organizing training and visiting places where green tourism products have been developed for learning and application at home and in the locality.
Over the past time, the development of green tourism product lines in some localities in the province has received the support and appreciation of tourists. This is also a tourism trend that is expected to grow strongly in the future, so it is necessary to pay attention to developing this product line.
theo: https://baotuyenquang.com.vn