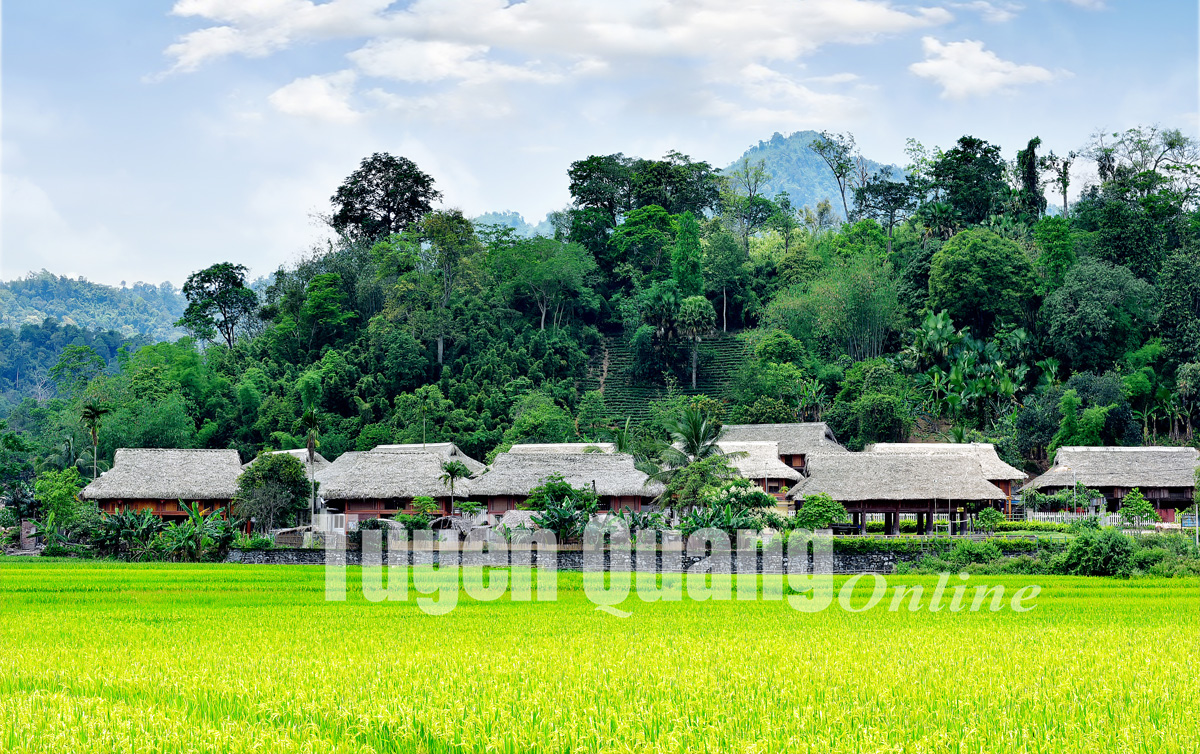 The community-based cultural tourism village in Tan Lap village, Tan Trao commune (Son Duong) has succeeded in preserving the culture of the stilt house.
However, the rapid development leads to the result that each house makes a homestay in a way, lacking in common community cohesion. Modern, hybrid elements are lamely assembled into elements of traditional national identity. The most visible, breaking the village space is the modern blue and red corrugated iron houses. Comrade Duong Minh Toan, Party cell secretary of Cao Duong village, Yen Thuan commune (Ham Yen), shared that the commune is aiming to develop Cao Duong into an impressive community tourist destination. But the most concern of the village is that more and more people build houses on stilts with corrugated iron roofs. This will break the wild and simple look in the traditional culture of the Hmong and Dao indigenous people. If there are specific guidelines and plans for community tourism, I think the commune should have propaganda and construction permits in these areas. Avoid spontaneous housework, messy lack of planning, breaking identity.
Recalling the previous festival seasons in Hong Thai commune (Na Hang), due to the large number of visitors, some tourists were introduced to temporarily stay in a wooden house with a green corrugated iron roof of a nearby Dao Tien ethnic household. The tourists decided not to stay, they went further and found a wooden house with yin and yang tiles with a beautiful view of the valley. Around the house is an ancient pear garden, everything is almost original. Drinking a cup of hot Shan Tuyet tea, a guest said, "There is no need to be too fussy about homestay tourism, we need to find identity, simplicity and hospitality". Immersed in the words of tourists, recently Mr. Ban Tien Sy, Khau Trang village, Hong Thai commune decided to restore a wooden house with yin and yang tile roofs to make Mac Cop homestay. Everyone praised Mr. Sy's house for being beautiful and harmonious with the common space. Because of knowing how to do it, Mac Cop homestay attracts more and more guests.
Previously, Tan Lap village, Tan Trao commune (Son Duong) also fell into this situation. Houses competed to build tube houses, roofed with corrugated iron, the space of the old war zone was turned upside down. Understanding the situation in Tan Trao commune, it is determined not to grant permission to build houses against the planning. Persevering in mobilizing people to return to making traditional palm-leaf stilt houses. Now visitors to Tan Lap community tourism village, the first impression is the complex of houses on stilts with palm leaves looming behind the historic Tan Trao banyan tree.
Preserving identity is the core factor to develop homestay tourism. Recently, the highland district of Lam Binh has restored the house of the Mong people in Khuoi Trang village, Khuoi Cung village, Xuan Lap commune. Comrade Trieu Van Lieu, Secretary of Khuoi Cung village cell, said that from 2020 to now, Khuoi Cung village has 5 houses that have been restored. We are discussing the agreement of roofing or tiles. Already, community tourism must be unified, not every house can do it. This is Khuoi Cung's long-term future, so we do it seriously and determined to do it.
According to the reflection of the villages that are doing community tourism, in order to remove the corrugated iron roof, the district and commune need to promote propaganda, planning and rearranging the population and houses in a specific way. Construction and cadastral officials have strengthened inspection, control and licensing in accordance with the planning. In order for the construction of houses of homestay tourist spots to go into order, in the right direction, in the right national identity.
According to Tuyen Quang Online