Attractive destination, safe
With nearly 500 historical relics associated with famous landmarks, the province has been focusing on effectively exploiting the potential of tourism in a sustainable direction, focusing on developing historical and ecological tourism types. resort, community tourism… With a wide variety of tourism types, Tuyen Quang becomes an interesting choice for many tourists. The number of tourists to Tuyen Quang increases year by year. In 2010, there were only about 500,000 tourists coming to Tuyen Quang, but by 2019, it has attracted over 1.94 million visitors, total social revenue from tourism is about 1,750 billion VND. Since 2020, due to the bad impact of the Covid-19 epidemic, the tourism industry has been severely affected, the number of tourists to Tuyen Quang has decreased by more than half.
However, that is only a temporary stop, when the epidemic is under control, the tourism industry will be like a spring bursting, while the province has prepared quite carefully the solutions to "catch up", focusing on attract investment in tourism infrastructure. Especially, when the transport system connects, the expressway is built, completed in 2023; The double road opened from the city to the public entertainment and resort area invested by VinGroup at My Lam Mineral Spring Resort is in the process of being completed, which will open up great opportunities to welcome guests to Tuyen Quang. visit, relax.
The province is also implementing procedures to build Tuyen Quang - Ha Giang high-speed road connecting to Tuyen Quang - Phu Tho highway; building Na Hang - Ba Be road (Bac Kan) to form a 2-destination route, creating an impression and attracting tourists. The good news is that SunGroup has surveyed investment in Na Hang Lake, Ba Be, building this place into a high-class tourist area. The province has also invested in building the memorial area for revolutionary predecessors, Tan Trao Museum and cinema room, renovating and upgrading Tan Trao Square (Son Duong) to create momentum to attract businesses to invest in mining. service tourism.
My Lam Mineral Spring Resort is being invested and built by VinGroup. Photo: Hoang Thao
The province focuses on developing and preserving traditional cultures of ethnic groups; diversity of forest ecosystems with the motto "if you can't keep the traditional culture, if you can't keep the forest, it's no longer Tuyen Quang". Many traditional cultural heritages of ethnic groups were honored, typically "Then practice of the Tay, Nung and Thai people in Vietnam" (Tuyen Quang is the focal province to complete the dossier to request UNESCO recognition). Recognized by UNESCO as the Intangible Cultural Heritage of Humanity.
Especially, in recent years, Thanh Tuyen Festival with many famous models of Mid-Autumn Festival lights has been known by many domestic and international tourists, becoming a trademark of Tuyen Quang. Currently, the province is building Thanh Tuyen Festival with the national brand, ensuring to create more unique and attractive tourism products for tourists. Forest protection and development has been responded to by the people, becoming a large movement, becoming the "capital" of planted forests in the region, which is also a big advantage for Tuyen Quang to develop eco-tourism.
The system of restaurants, hotels and unique traditional cuisine is interested and developed by the province. The province currently has over 280 tourist accommodation establishments, with nearly 3,000 rooms. In which, 1 hotel is 4 star standard, 37 hotel is 1 - 2 star standard. Coming to Tuyen, visitors can enjoy attractive and unique dishes such as Lo river fish, Minh Huong gourd duck (Ham Yen), dried buffalo meat, sour meat, field carp...
When the product chains are completed, the connection of tours, intra-provincial and inter-provincial tourist routes is the key step to ensure tourist attraction. Tourism businesses are ready for this. Nguyen Trong The, Director of Hoang Gia Tourism Company, said that the difficulties and losses of the tourism industry in the past 2 years due to the Covid-19 epidemic are difficult to quantify. Tourism businesses have temporarily stopped operating but are still trying to keep up. When the epidemic is over, the province's tourism products are becoming more and more perfect, which is an opportunity for tourism businesses to make a breakthrough. However, the issue of tourism connection between businesses in different regions is a problem for more sustainable development in the coming time.
Well developed
Resolution of the 13th National Party Congress determined, "continue to promulgate and implement policies to develop tourism to truly become a spearhead economic sector"; Resolution of the 17th Provincial Party Congress affirms: "Promoting potentials, promoting tourism development to become an important economic sector of the province" is one of the three breakthroughs in socio-economic development. in the 2020 - 2025 term. To concretize that goal, on June 16, 2021, the Provincial Party Committee issued Resolution No. 29-NQ/TU on developing tourism to become an important economic sector of the province. Provincial People's Committee has promulgated the Project on tourism development in Tuyen Quang province to 2025, with orientation to 2030. This is the first time in a congress term the resolutions and projects are issued as soon as possible to implement the project. effectively implement breakthroughs, ensuring the implementation of the goal throughout to turn Tuyen Quang into a fairly, comprehensively and sustainably developed province in the Northern mountainous region.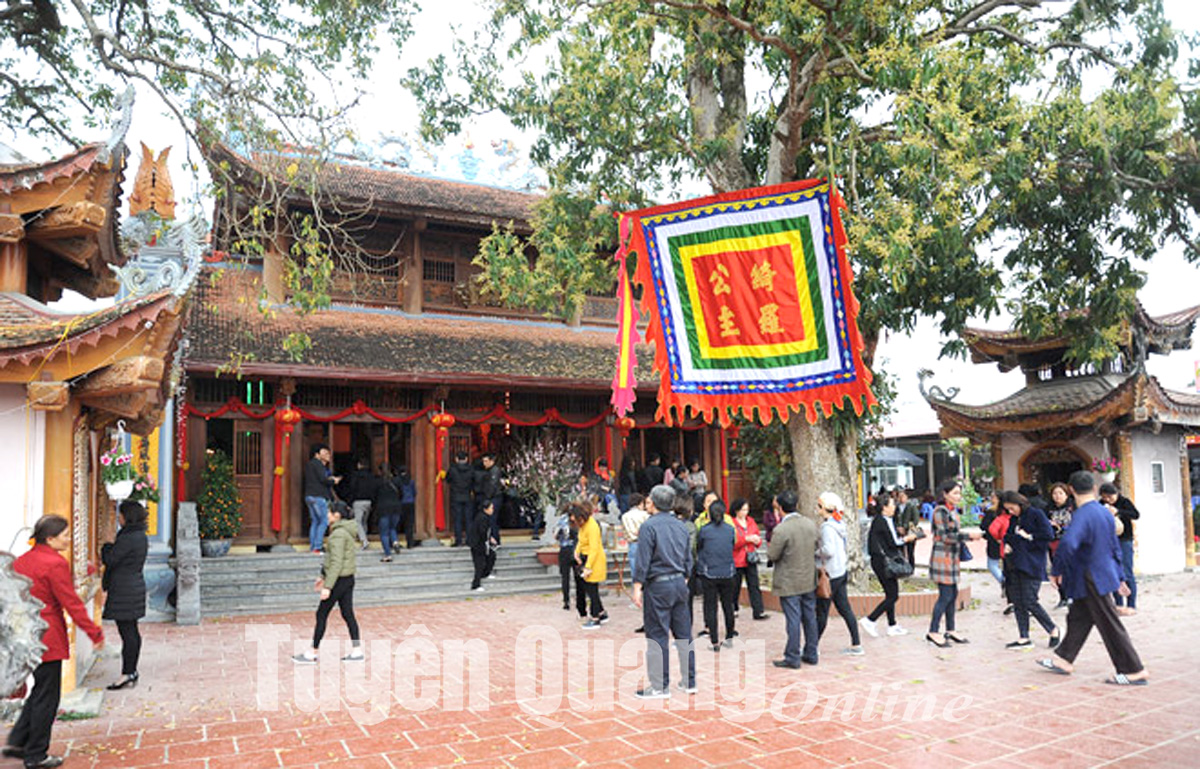 Tourists go to worship at Mau Temple Ỷ La, phường La Ward (Tuyen Quang City).
Accordingly, Resolution No. 29-NQ/TU of the province sets out the goal of focusing resources on building infrastructure of Tan Trao Special National Monument, basically meeting the criteria of a national tourist area; My Lam mineral spring tourist area is a high-class eco-resort resort; building and developing Thanh Tuyen Festival as a typical, unique, national-branded tourism product; Na Hang - Lam Binh special national scenic spot is the center of eco-tourism, community-based tourism, discovery tourism with national brand, towards international brand; improve the quality of spiritual tourism products to form a highlight to attract tourists; attract investment in infrastructure development.
The resolution has identified tourism development as the task of all levels, sectors, businesses and people in the province, so that each person is the "ambassador" of tourism in the province. Visitors to Tuyen Quang can not only experience, visit, use services, learn about customs and culture, but also feel the warmth of Tuyen's people. This is a unique feature in the tourism development goal of Tuyen Quang, visitors will certainly be very excited about this.
Concretizing the resolution, the province effectively implements the Smart Tourism Project; promote existing tourism products, continue to build unique, different and unique tourism products; building and affirming Tuyen Quang tourism brand on the tourist map of Vietnam. At the same time, the province strengthens cooperation and links with key tourism provinces and cities, travel businesses to build programs to connect tours and tourist routes, contributing to raising the position and strength of the tourism industry. competition of Tuyen Quang tourism, attaching Tuyen Quang destination to the inter-provincial and inter-regional tourism value chain. In addition, the province focuses on innovating methods and contents, improving the effectiveness of promotion and publicizing the province's potentials and strengths for tourism development.
The Prime Minister approved the Master Plan for Development of Tan Trao National Tourist Area, Tuyen Quang Province until 2030. According to the approved master plan for the development of Tan Trao National Tourist Area, the total area of ​​the core area is total. focus on developing the national tourist area of ​​2,500 ha, within the administrative scope of 5 communes of Son Duong district and 1 commune of Yen Son district. And to serve tourists to visit Tan Trao National Tourist Area will focus on developing develop tourism technical infrastructure, invest in restaurants, hotels and develop ethnic tents, homestays... in Tan Lap village, Tan Trao commune; Ninh village, Minh Thanh commune; Quan Ha village, Trung Yen commune (Son Duong district).
The master plan for development of Tan Trao National Tourist Area by 2025, welcomes about 1.5 million visitors, of which international visitors reach 2,000, and by 2030 welcomes about 2 million visitors, of which international arrivals reached 35,000; total revenue from tourism in 2025 will reach over 600 billion VND and in 2030 will reach about 1,650 billion VND. With this plan, along with the resolution goal, the province is calling for investment in Tan Trao National Tourist Area. Mr. Giang Tuan Anh, Chairman of Son Duong District People's Committee said: The district will create the best conditions for businesses and individuals to invest in developing infrastructure and tourism products in the area. The district gives priority to investors to deploy projects in communes in the ATK region of the district in all fields in order to promote the region's economy and society, creating leverage for tourism development.
With the goal of creating a favorable environment as well as having a specific mechanism to attract businesses with potential to invest in and exploit tourism and service activities in the province, especially large-scale projects, hotels , entertainment area, high-class resort, various types of eco-tourism associated with agricultural production ... gradually bring Tuyen Quang - the capital of the Resistance War to become a friendly and safe destination for tourists. domestic and foreign guests. Currently, the province is promoting tourism promotion solutions, focusing on effectively implementing the Master Project on tourism communication in Tuyen Quang province. Accordingly, the province mobilized the participation of the people in the application of social networks to promote and introduce the image of the land, the people of Tuyen Quang are hospitable and friendly; many beautiful and attractive landscapes and landscapes, really attractive destinations for tourists. At the same time, promote the role of famous people in promoting Tuyen Quang tourism to a large number of friends near and far.
According to Tuyen Quang Online