Camping is being well received by young people thanks to very interesting foreign-style equipment that can help them comfortably immerse themselves in nature and create unique check-in photos on social networks.
In fact, camping is very familiar to everyone, this activity is most exciting among young explorers and young families. Even when they were still at school, the students were also camped by the school in extra-curricular activities or celebrating major holidays of the year…
Camping site in Hong Thai commune (Na Hang) attracts a large number of tourists.
Mr. Nguyen Hoang Thanh, Hung Thanh ward (Tuyen Quang city) shared, camping is usually held on holidays or weekends. Families and groups of friends will choose a suitable place to set up camp, participate in other fun activities such as kite flying, fishing, campfire, barbecue style cooking... Camping will be very suitable. suitable for those who love and have passion to explore nature with the desire to stay away from the bustling city to find themselves a quiet and fresh place. He himself often goes camping with a group of close friends, each trip is usually for 2 days in places such as Ban Ba ​​waterfall, Trung Ha commune (Chiem Hoa), Tam Dao (Vinh Phuc), Ba Vi (Hanoi). ).
Ms. Ngo Phuong Thuy, Tan Quang Ward (Tuyen Quang City) said that at the beginning of last year, her whole family had a very interesting camping trip in Hong Thai commune (Na Hang) at the right time when pear blossoms were in full bloom. . The cool air and beautiful natural scenery have turned the camping trip into the most special travel experience that her family has ever experienced.
According to Ms. Thuy, a camping trip is usually cheap, all equipment is self-prepared and easy to carry out. If there is a need to camp overnight, you need to prepare a few necessary items such as sleeping bags, homemade food, drinking water, camping tables and chairs, lights, firewood, etc. These items are now easy. bought on e-commerce sites, designed in a professional picnic style, so it is very beautiful and easy to use. If you buy high-quality items, you can use them for many years without worrying about damage.
Camping is an activity that brings people closer to nature. Many families bring their children along to help them explore the natural scenery, trees, run and jump on the lawn, fly kites, play soccer, fish... instead of watching phones and TV during the day off.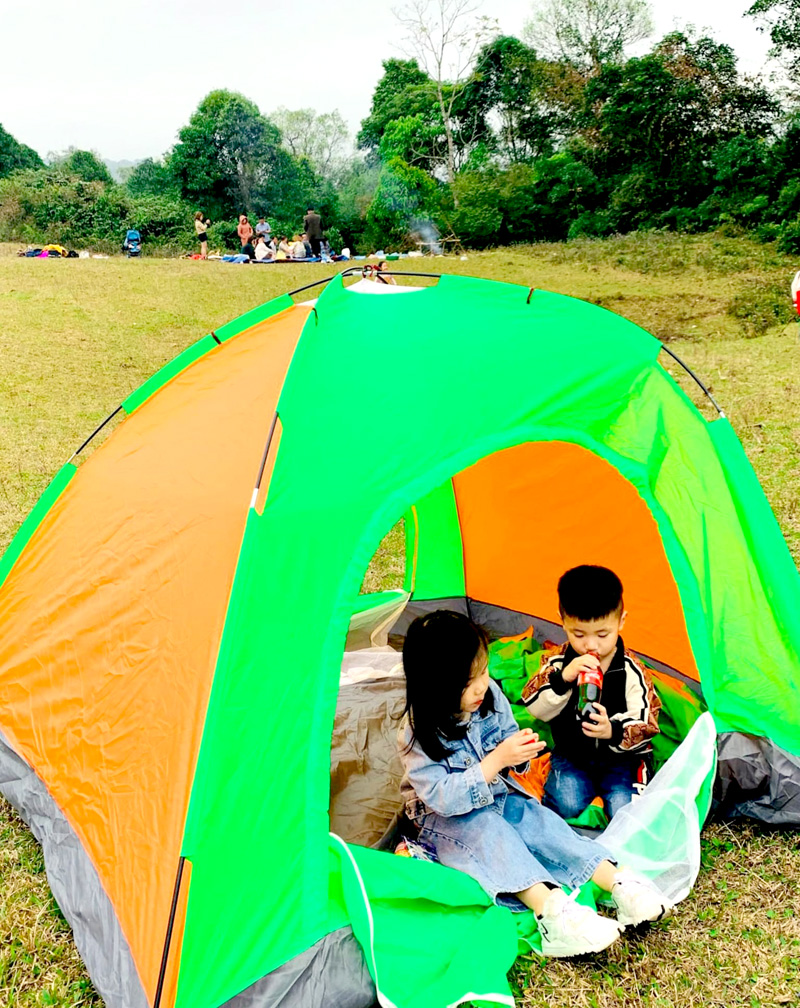 Camping is a type of family travel that is very popular with children.
Ms. Vuong Thi Ngoc Bich, Minh Xuan ward (Tuyen Quang city) shared that letting her children participate in camping is her way of teaching her children to love nature more, helping the whole family have more memories together. Her daughter, after camping, has more passion for discovering and discovering creatures such as insects after observing them in nature. However, because camping is outside, it is necessary to pay attention to safety, bring a first aid box to be ready for necessary cases.
Bich also said that the selection of camping sites should also be carefully noted, it is best to consult with local people, should not choose locations prone to landslides, floods, and floods. to scan. In the evening, if you are not equipped, you should book a room at a nearby motel or homestay. After the camping, everyone also needs to pay attention to clean up and collect all kinds of waste, especially plastic waste to keep the environment and landscape clean.
Despite being well-received, there are still quite a few selected camping spots in the province, mainly concentrated in some localities with tourist attractions such as Chiem Hoa and Na Hang. Many people choose to go to neighboring provinces such as Vinh Phuc and Ha Giang to camp. Hopefully in the future the province's tourism industry will have a plan to develop this interesting type of tourism, and at the same time select and plan suitable camping areas for residents and visitors.
According to Tuyen Quang Online Newspaper