More convenient for people
Comrade Le Thanh Son, Deputy Director of the provincial Department of Culture, Sports and Tourism, said that the project "Building a smart tourism system in Tuyen Quang province, period 2019-2020, vision to 2025" ", the industry has effectively maintained the Smart Tourism Portal, promoting Tuyen Quang tourism information at https://Mytuyenquang.vn and the "TuyenQuang tourism" app for mobile devices with integrated maps. tourist number. The tourism data warehouse at the Smart Tourism Portal is very diverse, providing two types of data objects, which are static data, including: information about tourist sites and attractions; Business Travel; restaurant; tourist accommodation establishments; visit VR 360 virtual reality at 19 tourist attractions of the province; display the location of ATMs... and dynamic, regularly updated data such as prominent cultural events at the destination, traffic assistance information, weather; entertainment spots, tourist services, shopping points ... help users easily look up information, choose suitable products and services. After 3 years of operation, the smart tourism portal of the province has reached over 2 million visits.
Mr. Luong Duy Doanh, Director of Fivestar Travel Company, operation manager of Homestay Nam Dip & Ban Bon (Lam Binh) said: The company has integrated data, promoted through personal pages as well as connected and linked. coordinate with media agencies, regularly provide images and information about new products, policies as well as activities to experience, exchange and share of visitors when visiting, experiencing and using services of the company and at 2 Homestay Nam Dip, Ban Bon. Through the digital environment as well as the application of technology, the Company's products, images and brands and services spread further and are more useful. High growth in production and business results, blurring the seasonal nature of tourism service business. Besides, the benefit of the digital environment is that no matter where there is a network, we can operate, share work with partners, and interact with customers.

Visitors experience at Homestay Nam Dip and Ban Bon (Lam Binh).
Mr. Hoang Van Lieu, Nhien Hien restaurant, Tan Lap village, Tan Trao commune (Son Duong) said that his family's restaurant started construction in 2010, the scale can welcome about 750 guests. Thanks to early access to social networks, his family took the initiative to set up a Fanpage "Nien Hien Restaurant" on Facebook with full address information and specific phone numbers. The restaurant has also posted a number of menus on Fanpage with traditional dishes such as: hill chicken, smoked ribs, Hong mountain rock crab, grilled stream fish, fried buffalo meat with sour bamboo shoots, and seasonal wild vegetables. .. to support the diverse choices of visitors. Mr. Lieu said, now people are quite proficient in finding "keywords" where to eat, sleep, rest, play, shop... of the destination, just type in the search keywords and the product information. , the service is easily updated. This opens up new creative ways in the service business...
Not familiar with digital technology applications, social networks, Mr. Ma Cong Hung, owner of Khuon Chang Homestay, Ban Ba ​​1 village, Trung Ha commune (Chiem Hoa), thanks to his grandson Ma Thi Bich Loi, born 3rd year student, majoring in English, Thai Nguyen University. Loi helped my grandfather build the village's first homestay model, serving the development of community tourism, I researched myself, created more Address Khuon Chang Homestay on Google Maps, set up a Fanpage on Facebook to post articles. promote and introduce the family's homestay, about the special traditional dishes of the family directly made such as: field fish sauce, banana flower spring rolls, crab salad... to help visitors better understand, have more information about the destination to choose, decide...
Change operating method
Smart tourism is currently a popular trend, favored by customers. Since its inception, the Smart Tourism Portal of the province has become a companion for tourists with many user-supporting features such as tourist digital maps, tourist information lookup calendar; accommodation services, cuisine, shopping, entertainment, utility services... Businesses, organizations and individuals doing business in tourism can all promote their own tourism image on the platform. digital as well as on social networks... has opened up new ways of promotion compared to the traditional way, creating favorable conditions for tourists to find out all necessary information about tourism in the province in an instant. easy way.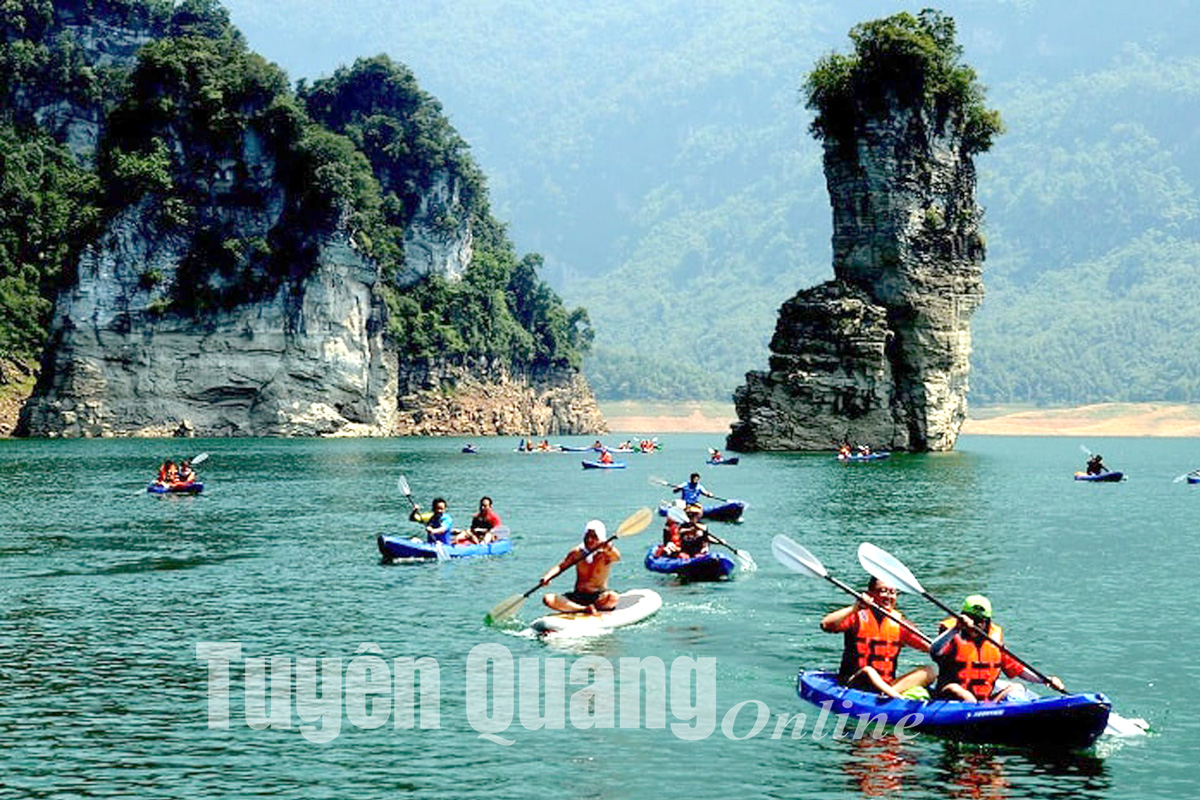 Guests experience kayaking and explore Coc Vai landscape on Na Hang ecological lake. Photo: K.T
In addition, when having problems with the quality of services and products, visitors can report them to the state management agency with the reflect feature right on the application to protect their interests. Thanks to a smart tourism ecosystem with useful utilities, the Provincial Tourism Portal has met the specific and specialized needs of the tourist market, helping visitors save more. It is a comparative advantage, a superior utility that is not easy to implement in the traditional tourism business environment.
Developing smart tourism has both contributed to improving the effectiveness and efficiency of state management, promoting growth, and improving the competitiveness of Tuyen Quang tourism, while also supporting tourism businesses to effectively connect with tourists. related subjects, and at the same time effectively meet the needs of people and tourists, aiming at the central audience as users.
According to Tuyen Quang Online Newspaper