Innovation approach
In the past, the way of promoting tourism through newspapers, leaflets or participating in promotion programs... partly met the needs of reference destinations. However, the requirements of tourists are increasing day by day. Le Thanh Son, Deputy Director of the Department of Culture, Sports and Tourism, said that in order to bring Tuyen Quang tourism closer to tourists, the province's tourism industry has had a transformation in its approach to tourism and promotion. focused and creative. In addition to the traditional promotion channels such as leaflets, brochures, travel guides, etc., the application of highly pervasive communication channels on social networks such as Facebook, Youtube, Tiktok... promote. At the same time, increase the invitation of travel businesses nationwide to participate in tours and routes to introduce new destinations and tourism products; building, maintaining and promoting information and promotion on portals and websites: sovhttdltuyenquang.vn, dulichtuyenquang.gov.vn with many contents to introduce and promote Tuyen Quang tourism image, provide providing information, reflecting cultural activities, customs, and traditional festivals in the province with high efficiency.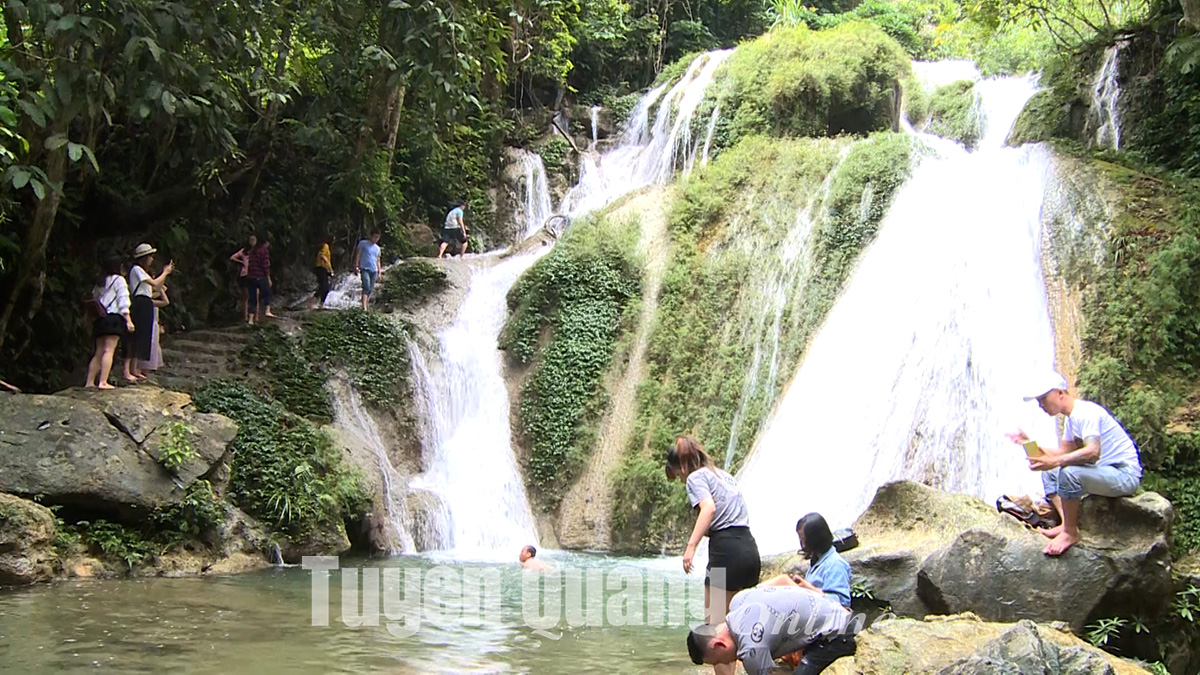 Khuoi Nhi Waterfall (Lam Binh) - an attractive destination for tourists.
In particular, implementing the "Master project on application of information technology in tourism in the period of 2018 - 2020, orientation to 2025", the provincial tourism industry has effectively implemented and maintained the Tourism Portal. Smart tourism, promoting Tuyen Quang tourism information at https://mytuyenquang.vn and the app "TuyenQuang tourism" for mobile devices and tablets. With a diverse tourism data warehouse, including information about tourist sites, attractions, tourist event information, tour operators, restaurants, tourist accommodation facilities, VR 360 virtual reality tours at 19 tourist attractions of the province with basic descriptions, overview images, details, display location of ATMs, entertainment spots, tourist services... The software contributes to improving High efficiency for management, helping businesses, units and service tourism business establishments in the province easily approach tourists. After nearly two years of operation, the province's smart tourism portal has reached nearly 2 million visits.
Take advantage of social media
Currently, localities in the province have built Fanpages to promote tourism's potential and advantages. Since 2016, Lam Binh District Information and Culture Department has put into operation Lam Binh Tuyen Quang Tourism Fanpage. This is a page specializing in sharing and promoting beautiful images of Lam Binh district tourism, and at the same time introducing visitors to reasonable destinations and places to stay. To date, the page has over 10.6 thousand followers. Each post on the site attracts hundreds of likes, comments, and shares. Vu Trung Kien, the site's administrator, said that tourists are now mainly searching for tourist information via the internet. With many useful features, social networks are becoming a tool to increase interaction and reach more visitors than traditional forms of advertising. In addition, this is also an information channel for people doing tourism to exchange and share how to do tourism.
Many articles and pictures introduce tourist attractions in Lam Binh on Lam Binh Tourism Fanpage.
In fact, most businesses and tourism establishments in the province now use social networks such as Facebook, Zalo, Tiktok ... to promote and propagate the potential, advantages and achievements of tourism development. of the locality, the unit, thereby creating a reference channel, helping to bring Tuyen Quang tourism image further and closer to tourists such as Homestay Nam Dip & Ban Bon, homestay A Phu (Lam Binh), Homestay Hong Thai (Na Hang), Ban Ba ​​waterfall tourist area (Chiem Hoa)... In addition to articles, beautiful pictures introducing dishes, beautiful attractions, tours, these pages also introduce hotels. , homestay, eatery, restaurant, hometown specialties. Everything becomes a travel guide before the trip for everyone.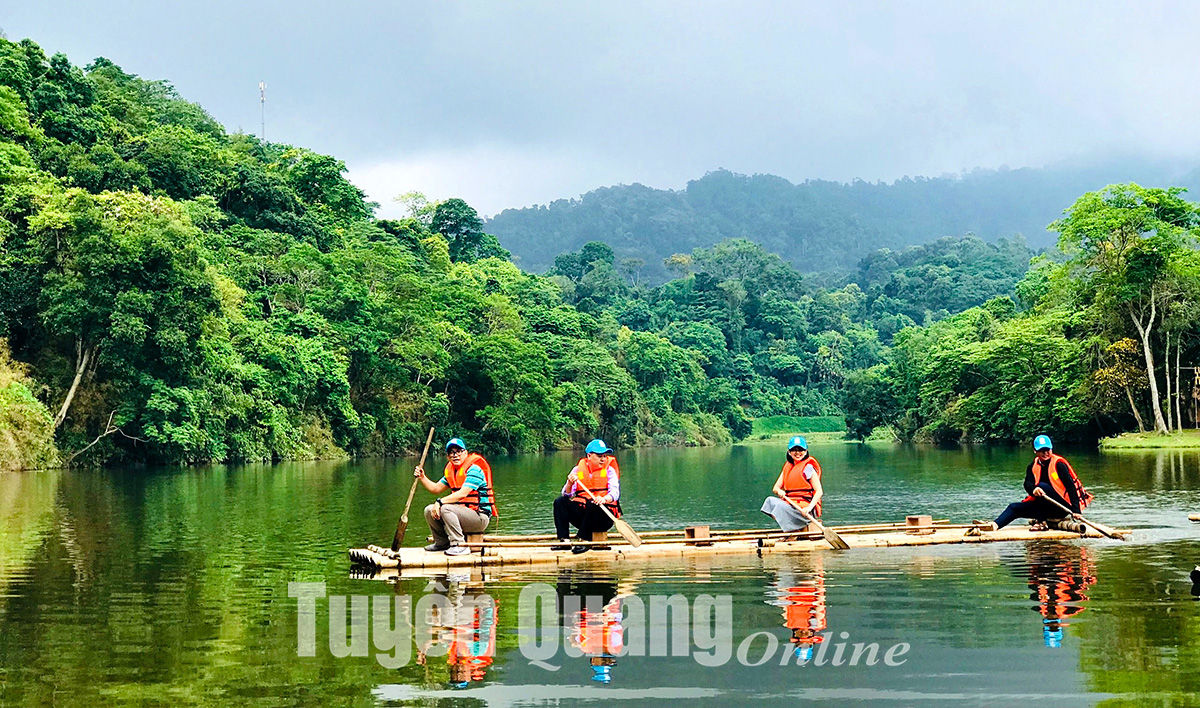 Visitors experience plate swimming on Na Nua lake, Tan Trao commune (Son Duong).
Nguyen Viet Dung (Hanoi) shared that he and his friends had just had a trip to experience at Homestay Ban Bon, Phuc Yen commune (Lam Binh). He chose this homestay because seeing the pictures posted on social networks is very beautiful, many people who have stayed there also commented on the good service. He went to impressive check-in points, enjoyed the unique dishes of the Tay and Dao people, and experienced the life and activities of the people here. Interesting trip, took many beautiful pictures. When posting pictures on social networks, his friends and relatives are also very eager to come to Lam Binh, Tuyen Quang to experience.
Thanks to the innovation of forms of tourism promotion, from the beginning of the year until now, our province has attracted nearly 1.5 million visitors, total revenue from tourism reached over VND 1.4 billion, up 24% compared to the same period last year. period. In the coming time, the tourism industry will continue to promote the promotion and introduce potentials and investment opportunities in Tuyen Quang tourism with diverse forms through many channels to reach visitors quickly and effectively. .
According to BaoTuyenQuang Online